In everyday life, we are constantly guided by algorithms. This denies people the joy of experimenting with the unforeseen and the coincidental. Be it finding the next best restaurant, the optimized path of movement from the infinite possibilities or the finiteness of one's own existence.
This is where the work can be applied. The playfulness of the dice not only create a game metaphor, but also to the play with chance. Here we are faced with a paradox: due to its architecture, a computer cannot emulate real chance, since algorithms, tamed by reduction and order, cannot leave anything up to randomness. On the other hand, we are constantly guided and controlled by algorithms. The effort to playfully or artistically undermine this determinism can be found, among other things, in the approaches of the Situationists (e.g. Guy Debord's whirling around Paris with a street map of London) or in the Fluxus movement (e.g. a negation/abolition of chance in Robert Filliou's work 'Eins. Un. One.') who have taken the game of chance to the extreme. Fluxus artists distributed so-called Fluxkits — a box with different objects and an instruction for the audience in order to invite them to interact.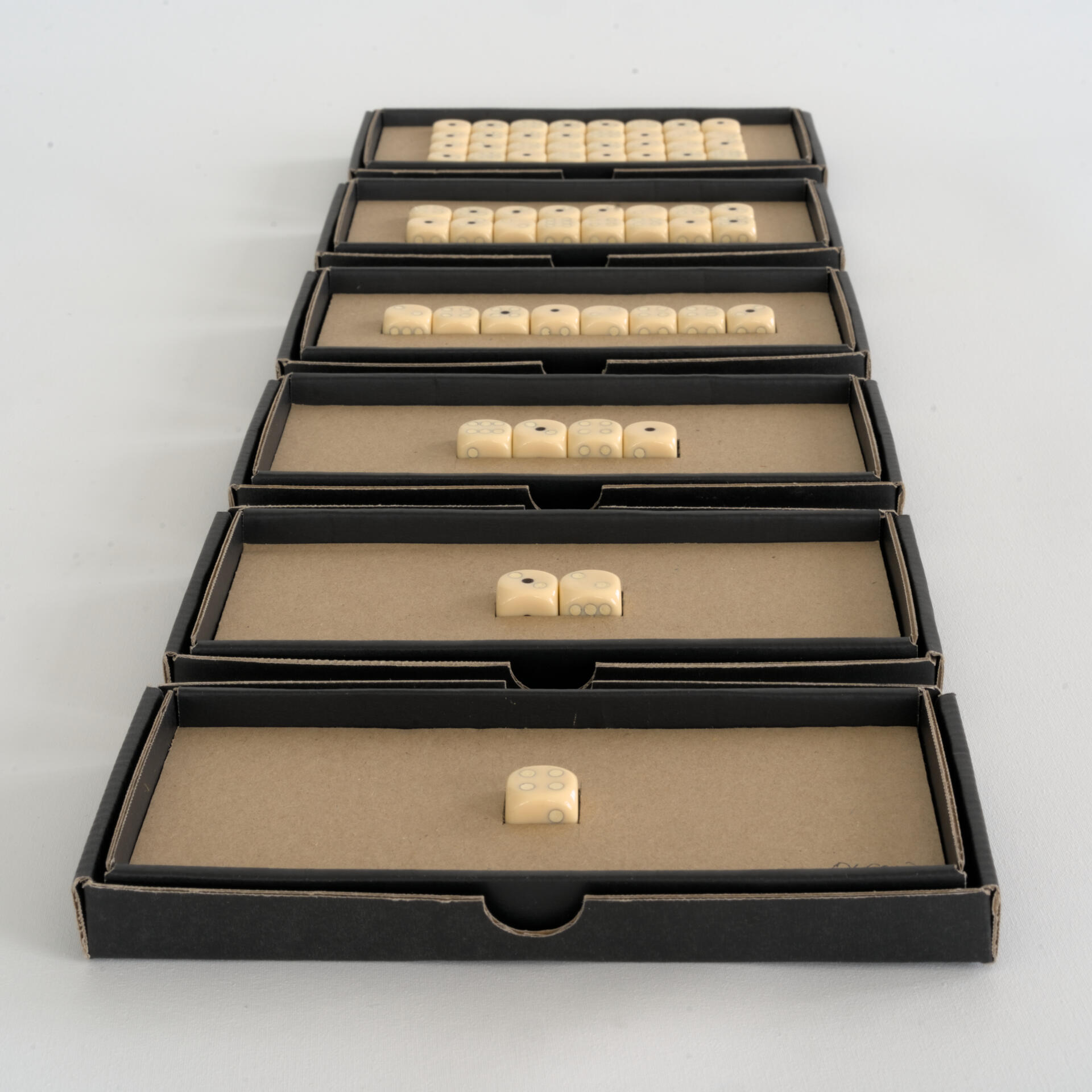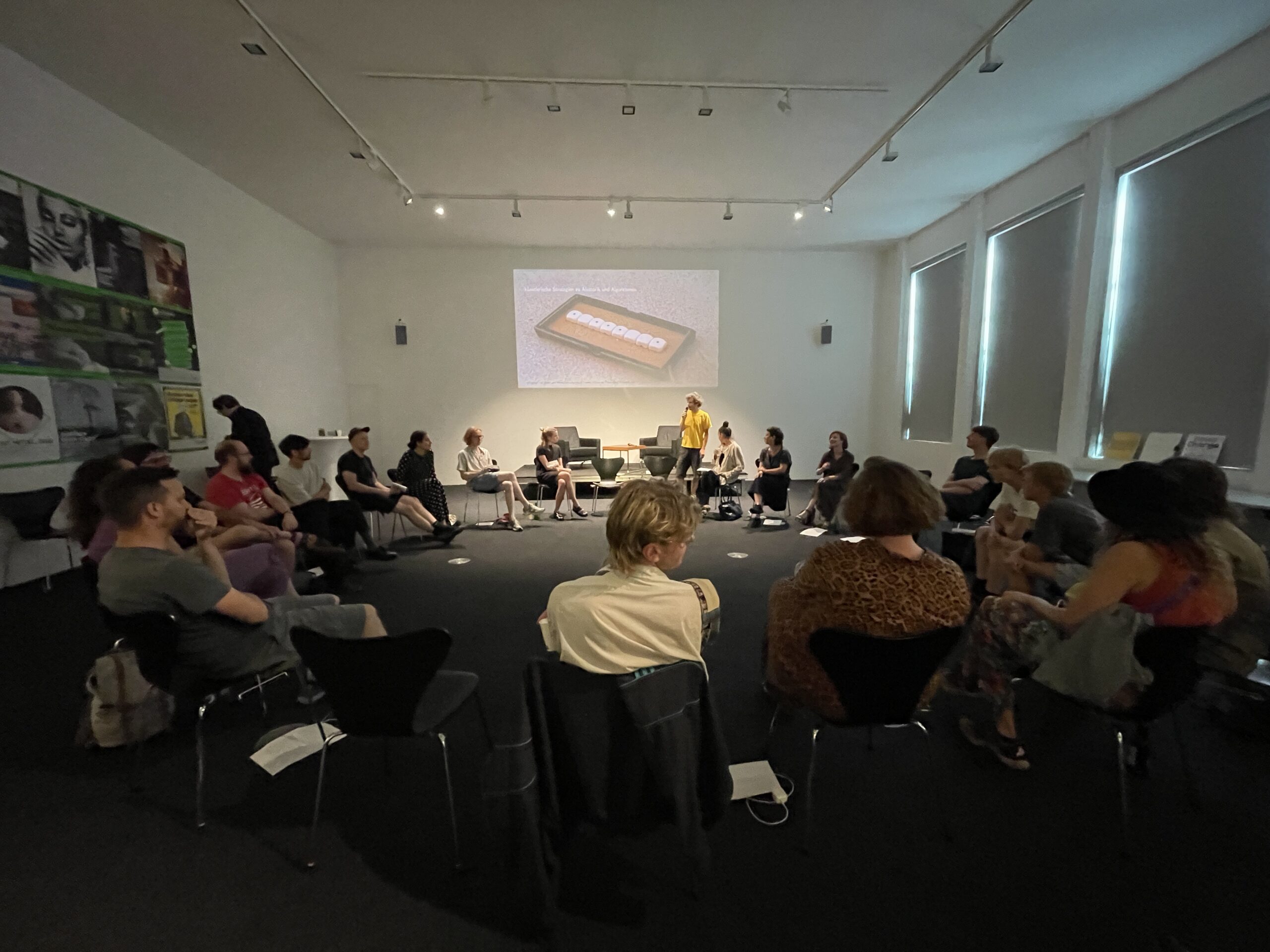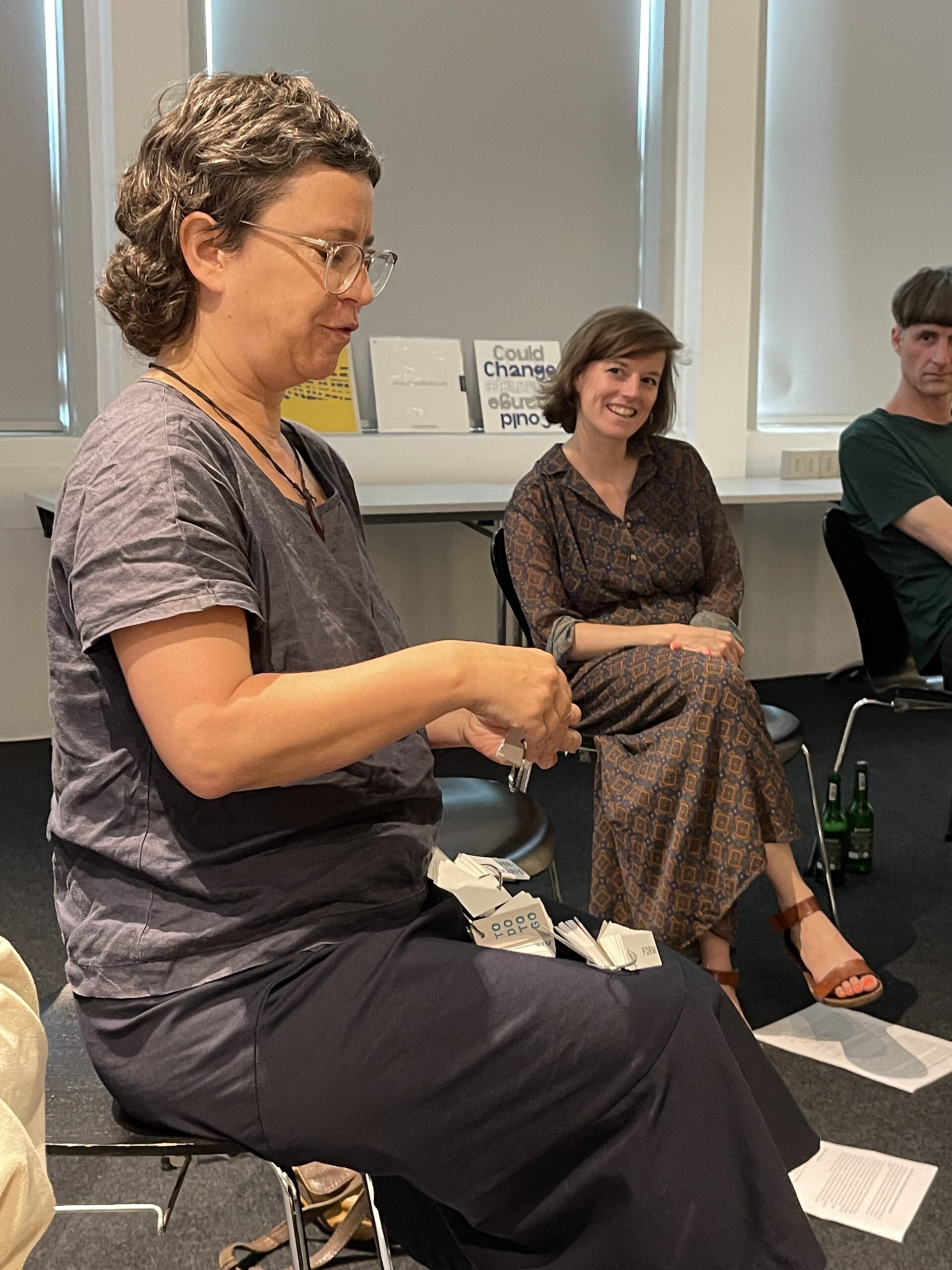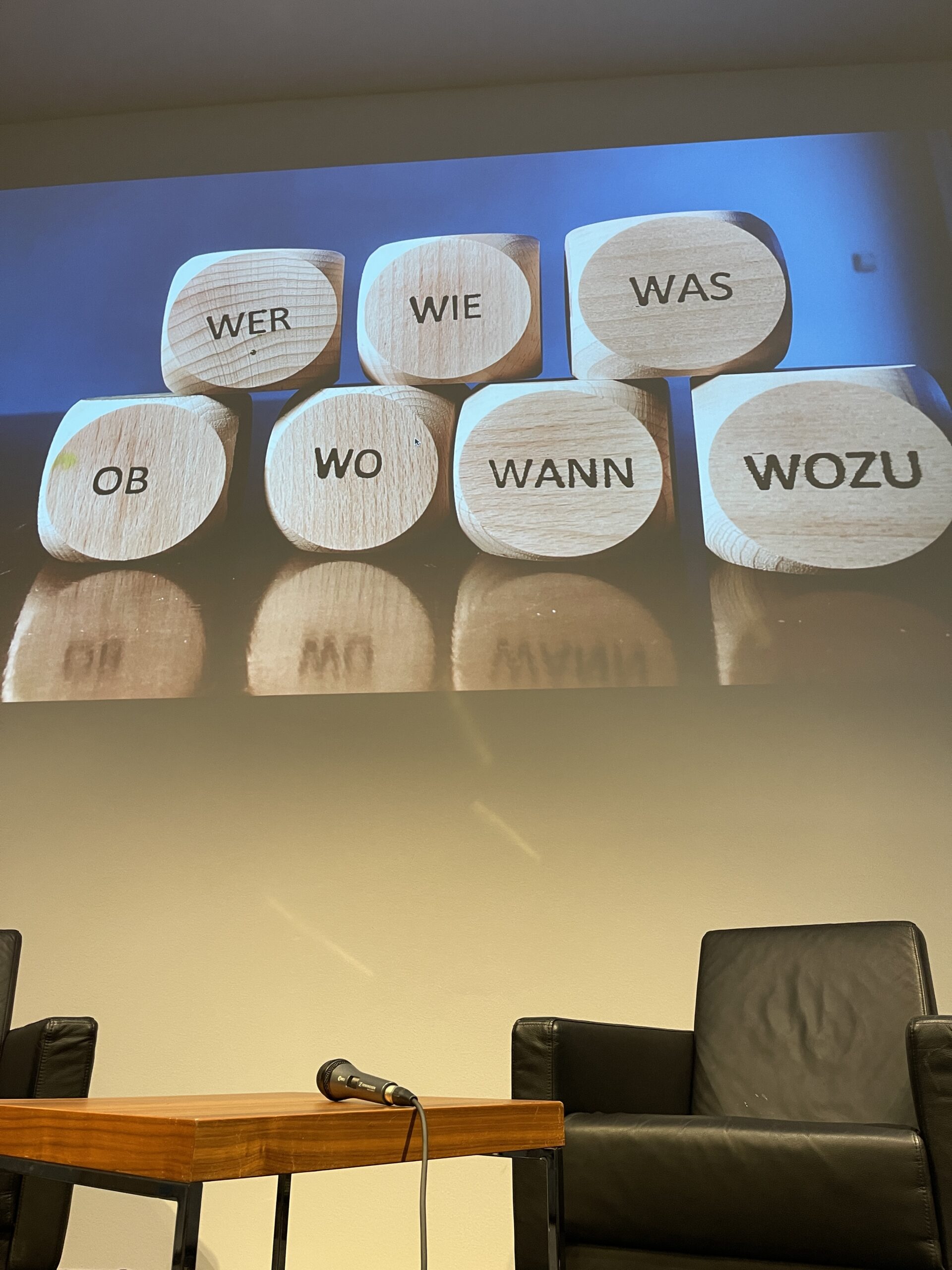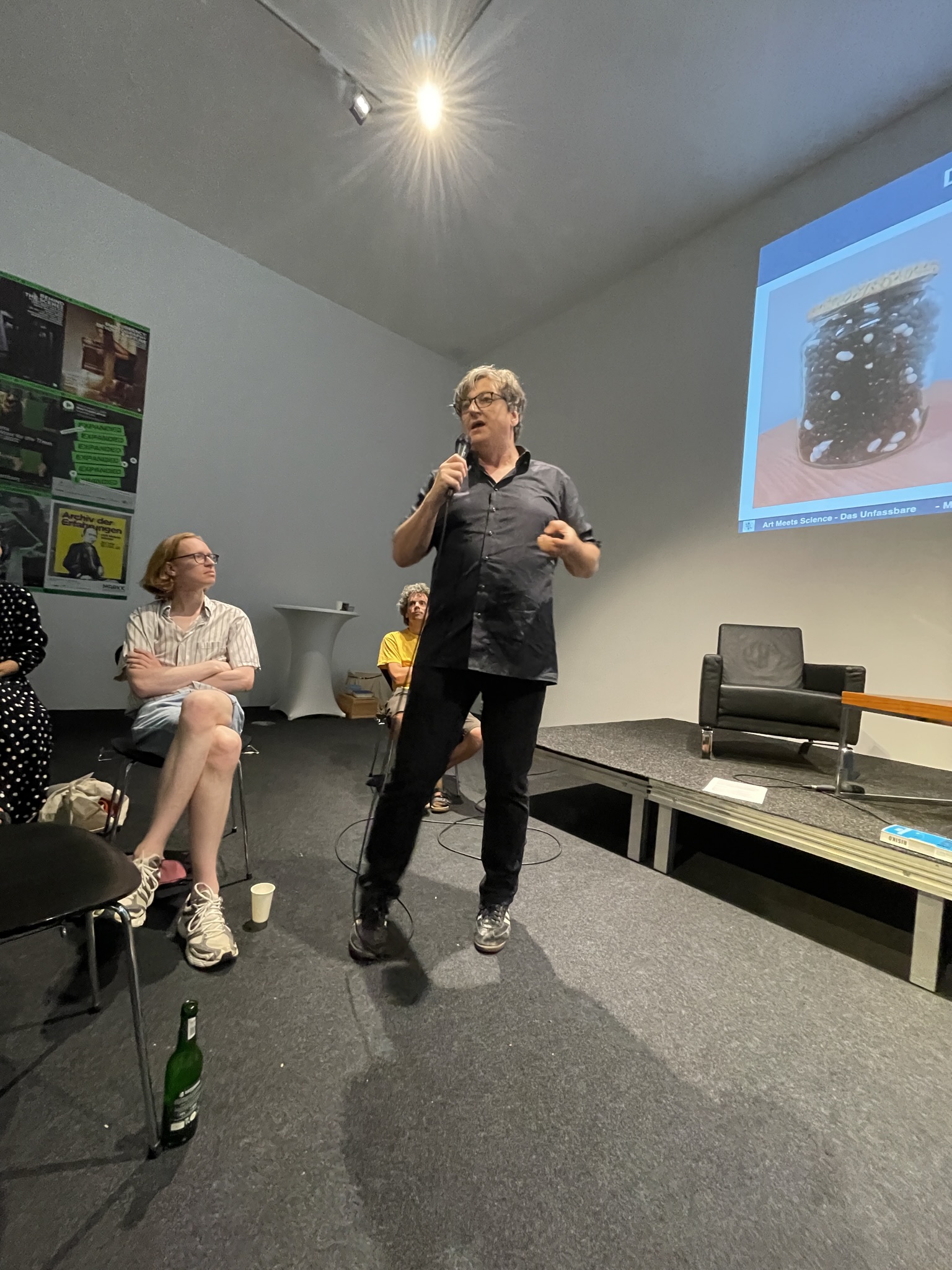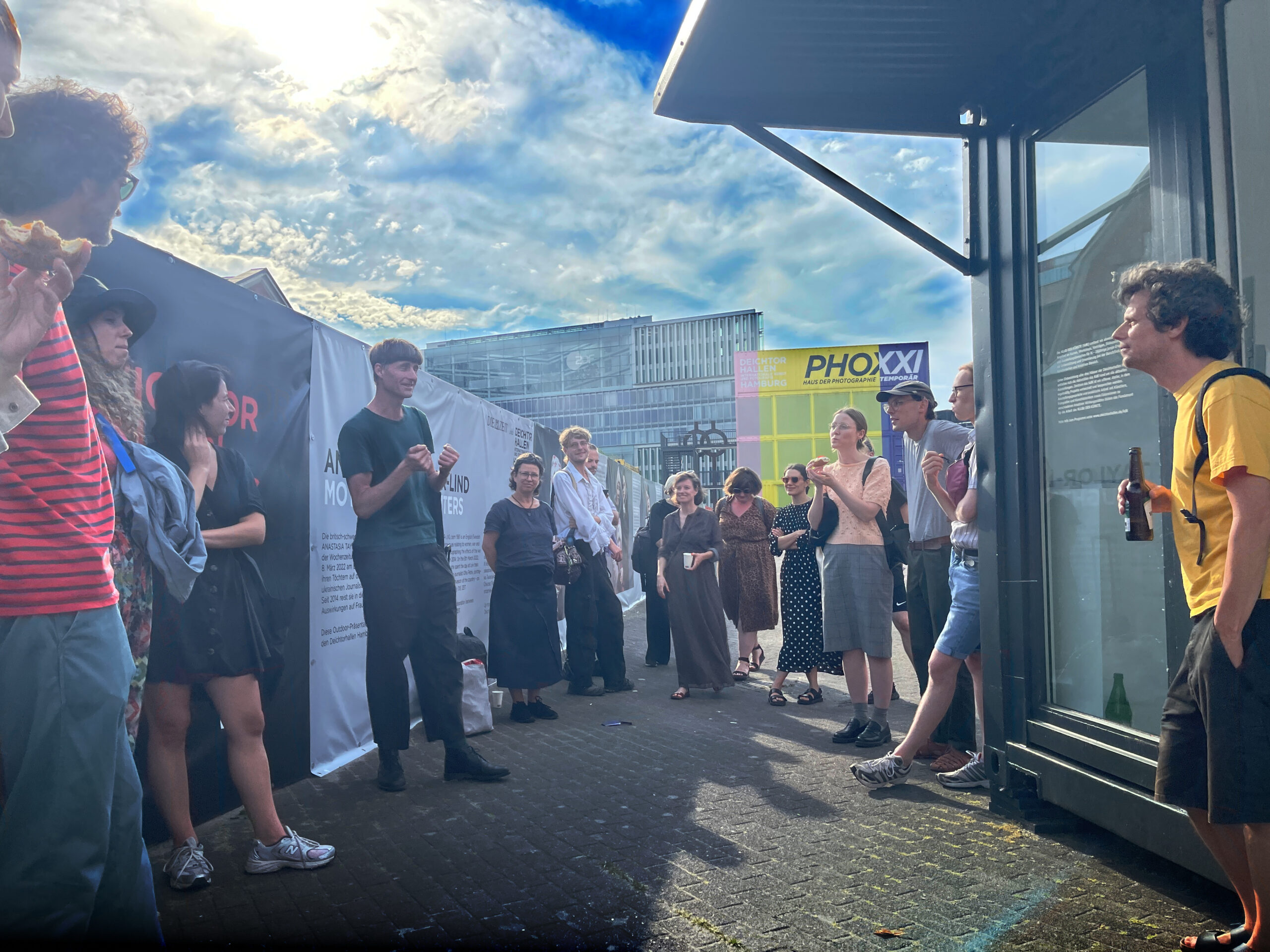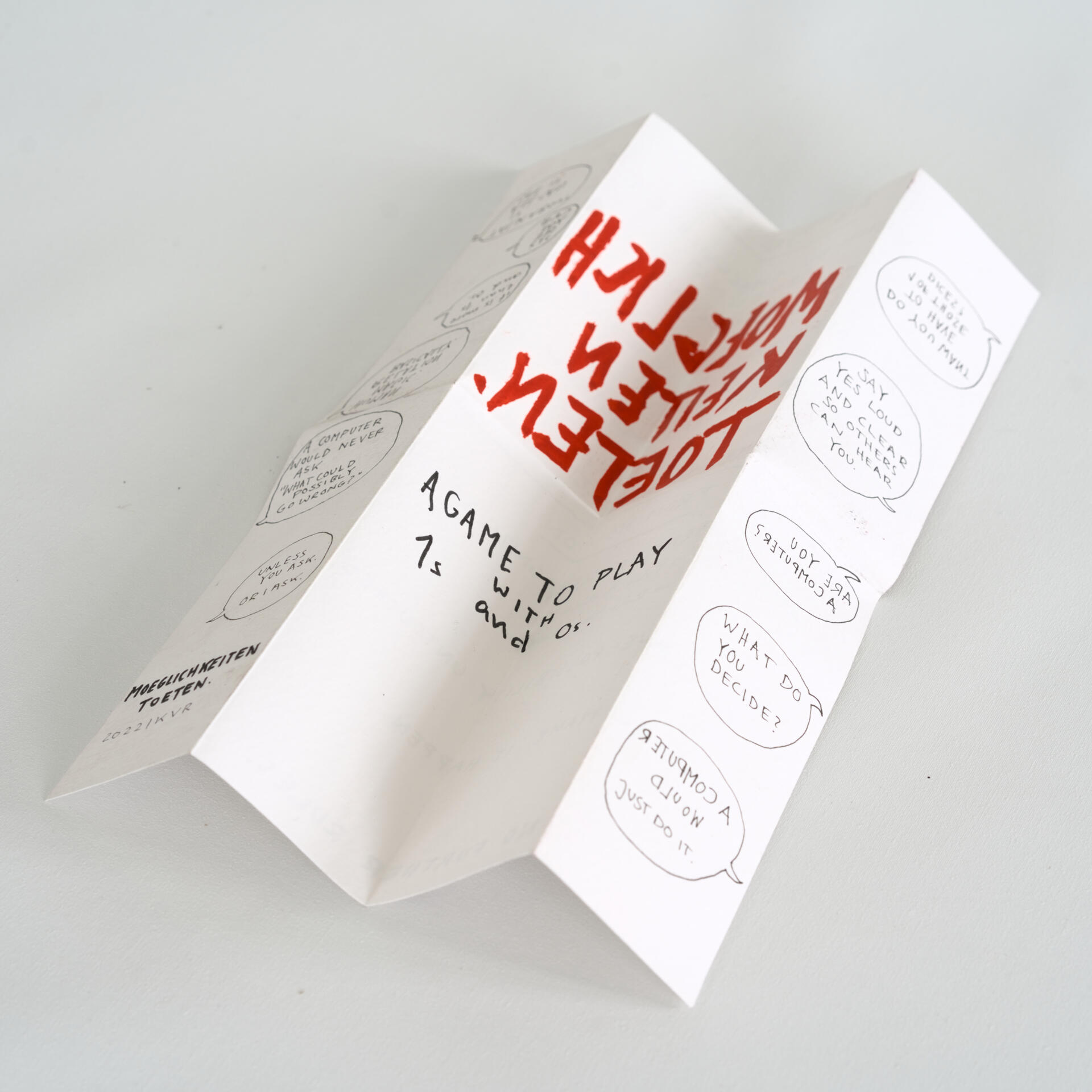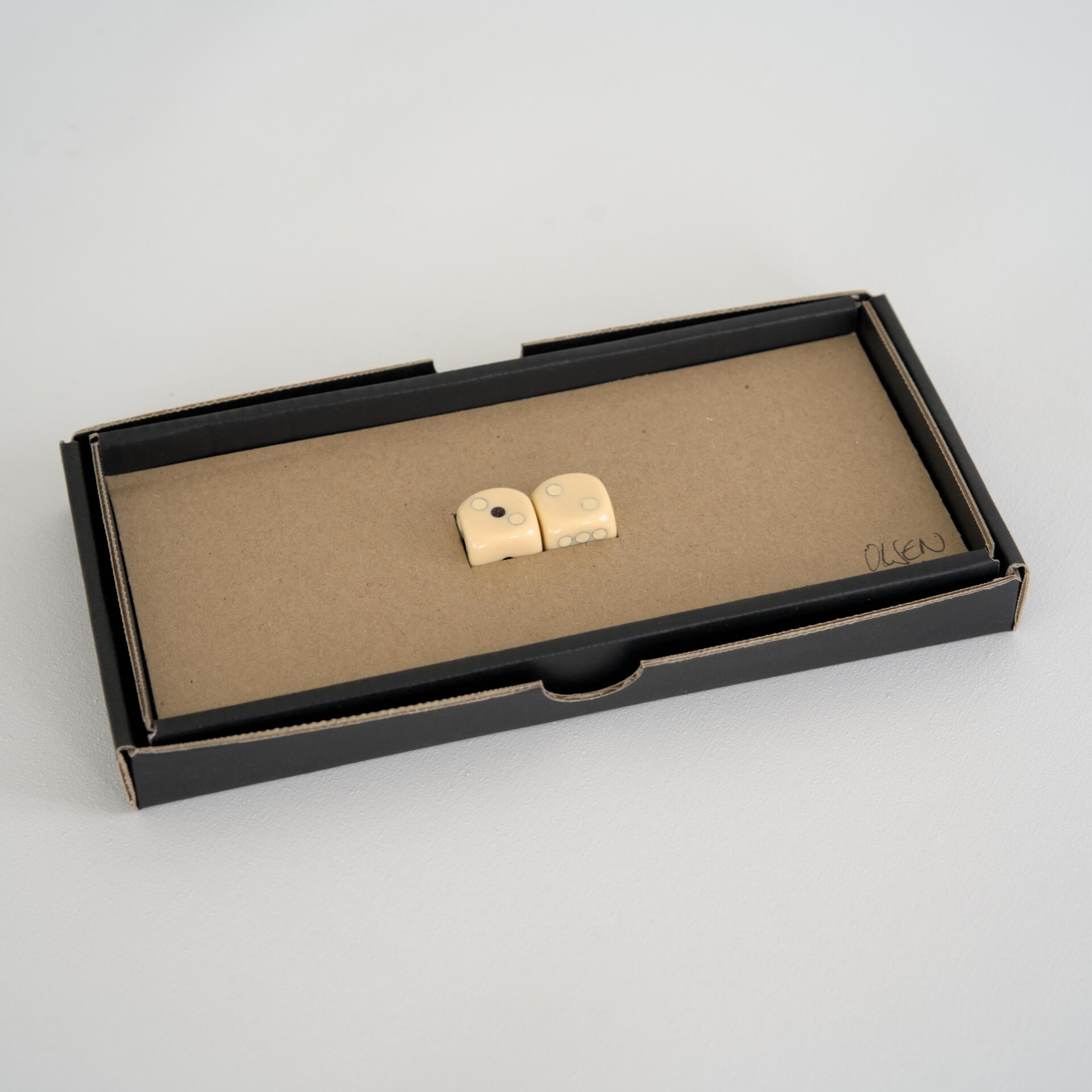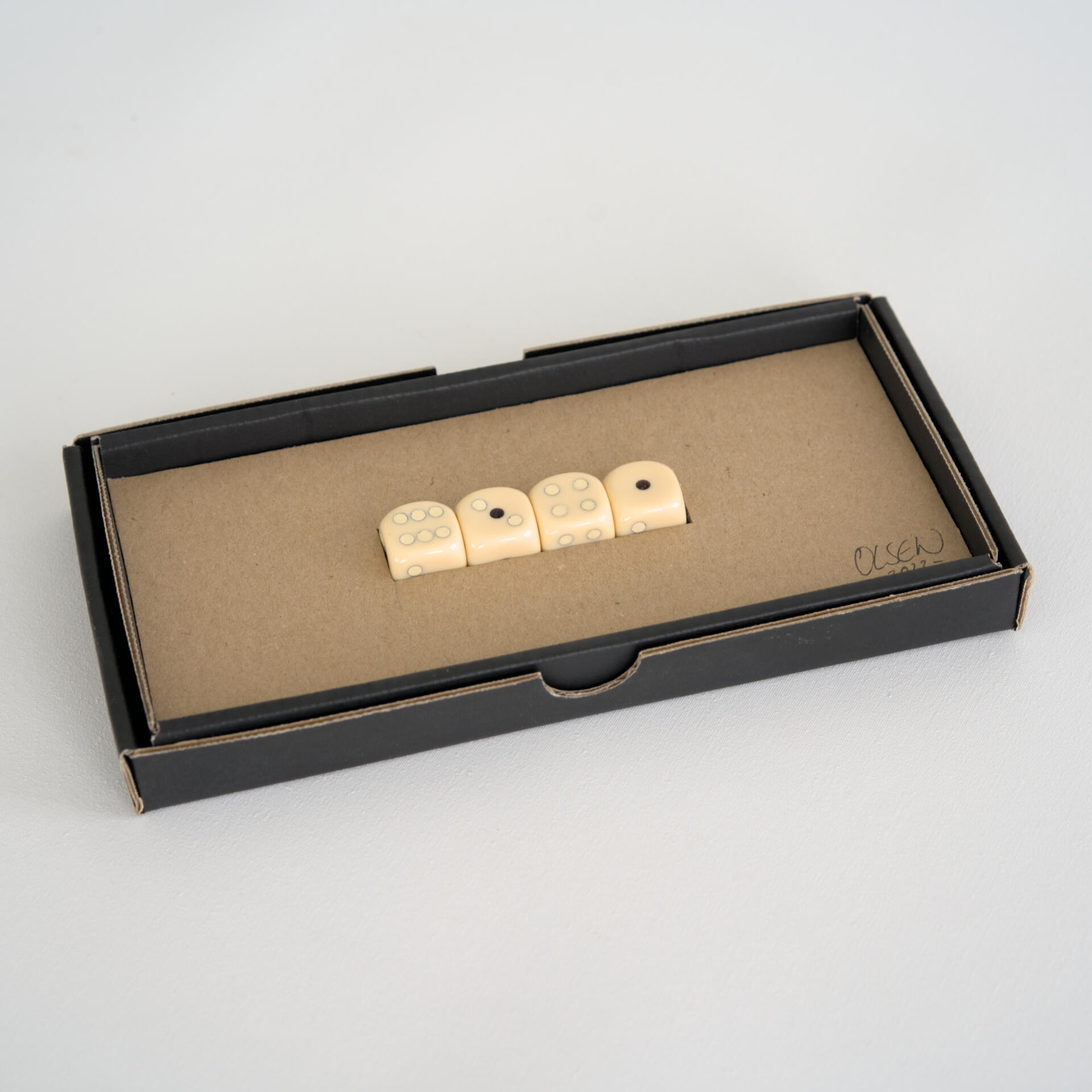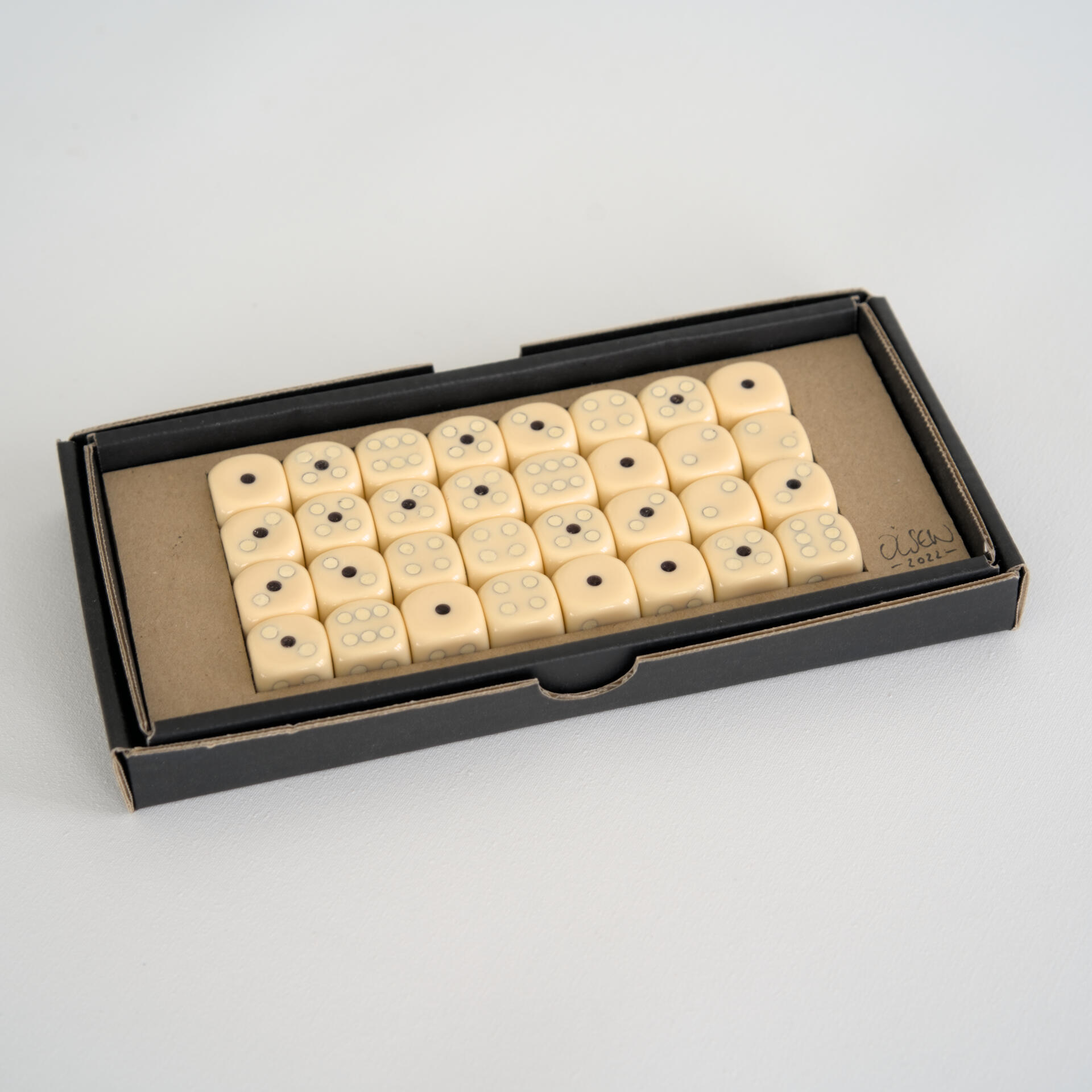 Taming of Chance
Taming of Chance – künstlerische Strategien zu Aleatorik und Algorithmen
Taming of Chance
Franz.iska Henschel entwickelt aleatorische Spiel- und Werkzeuge zur künstlerischen
Selbstermächtigung
Taming of Chance
Würfel von Franz.iska Henschel
Taming of Chance
Louise Vind Nielsen und Florian Bräunlich – Throwing dice with a caterpillar and other stories
Taming of Chance
Louise Vind Nielsen "Throwing dice with a caterpillar"
Taming of Chance
Louise Vind Nielsen und Florian Bräunlich – Throwing dice with a caterpillar and other stories
Taming of Chance
Julia Münstermann und Christian Schwanenberger über das Unfassbare in der Wissenschaft und der Kunst
Taming of Chance
Algorithmische Soundpoetry mit Marc Matter
Taming of Chance
Handlungsanweisung von Kathia von Roth "Moeglichkeiten toeten – A Game to Play with 1s and 0s"
As part of the residency TheHost.is, artists from Hamburg and the surroundings where invited to deal with chance. Custom made dice with only zeros and ones serve as a basis. Similar to the Fluxkits in Fluxus, the artists received a construction kit with 1, 2, 4, 8, 16 or 32 binary cubes – equivalent to the units of measurement in digital technology and computer science. Artists were invited to develop the content independently, for example by rearranging the objects or devising new games whose rules could be a score for an interactive event. The rules created in the process – ergo algorithms – on how to deal with the contents of the box were presented by the artists and in part added to the construction kit as a manual. During the event, visitors had the opportunity to try them out and play with chance.
Participating artists: Franz.iska Henschel, Florian Bräunlich, Louise Vind Nielsen, Julia Münstermann & Christian Schwanenberger, Kathia von Roth, Marc Matter.
This artwork was created as part of the project "THEHOST.IS: HOW TO BEAM: Do-It-Yourself Teleportation for Hybrid Times", a joint project of Deichtorhallen Hamburg GmbH and Kampnagel Internationale Kulturfabrik GmbH. It is part of the joint project "Diversify the Code! Artistic Production and Institutional Structural Change" which is funded by the Fonds Digital in the Kultur Digital programme of the Federal Cultural Foundation.
Thanks to Anna Teuwen, Caroline Huzel, Darsha Hewitt, Jaclyn Hernandez, Jeanne Vogt, Matthias Schönebäumer.
Photo N° 2-4 & 5-9 by Jaclyn Hernandez, N° 6 by Louise Vind Nielsen.